Brochures

Building Signage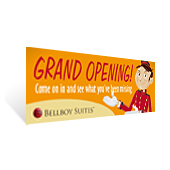 Brochures
Get your message out to potential customers quickly and concisely with a well designed brochure. Small enough to slip in a pocket or an envelope, brochures conveniently provide an extra punch to your marketing message in an inexpensive package. Put brochures to work for you in your next marketing campaign to:
- introduce a new product or perk up interest in an existing product line
- acquaint customers with major services you provide
- point out key features and benefits to new and potential customers
Building Signage
Full-color vinyl banners offer a high-impact, hard-to-miss means of getting your message out to the world. Grab attention at events, grand openings, and trade shows. Durable enough to be used inside or outside, banners are a versatile source of marketing muscle.
- Announce a sponsorship, upcoming event, special sale, or exciting new product.
- Place vertically oriented banners next to each other to create a striking visual display.
- For a professional look, consider pole pockets to mount your banner to a free-standing display
Contact Information

Phone:
(408) 254-8401
Services at a glance