Business Cards

Carbonless Forms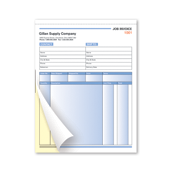 Business Cards
Small enough to fit in a pocket, yet versatile enough to use anywhere, your business card is the most important piece in your marketing portfolio. More than just names and numbers, effectively designed business cards provide a bold first impression with your prospective customers, and put your contact information right at their fingertips when they are ready to buy.
- Maximize your business card's impact with full-color printing and eye-catching imagery.
- Add valuable real estate for maps or tear offs with a fold-over business card.
- Use high-quality paper to add elegance and make your business cards stand out from the competition.
Carbonless Forms
Tame disorder, increase your productivity, and streamline your workflow with carbonless forms. From invoices to order forms, packing slips to receipts, inventory checklists to service contracts, a well-designed carbonless form will save you time, money, and headaches by providing an instant duplicate you can provide to customers and co-workers alike.
- Need an extra copy to file with sales staff and accounting? Consider 3-, 4-, or 5-part forms.
- Add a second ink color to make information easier to find.
- Make organization and filing a snap with pre-drilled holes.
Contact Information

Phone:
(408) 254-8401
Services at a glance